"AN UNFORGETTABLE EXPERIENCE"
Accommodations             Additional Excursions        What to Bring
Adventure Excursions
Eco-cultural activities are organized to promote sustainable tourism. Our local bilingual naturalist guides host excursions including: daily hikes into the lush rainforest, birding, nocturnal activities, canoe trips along the enchanting Rio Tapira, excursions on the Mighty Amazon River to look for the elusive Pink River Dolphins, piranha fishing, tours to spot exotic animals including: sloths, caiman, reptiles, amphibians, insects, all sorts of monkeys and birds.
And of course don't forget the flora including gorgeous flowers, impressive giant Kapok (Ceiba) trees and the important medicinal plants of the rainforest.
Visit a remote oxbow lake, camp in the jungle, learn survival techniques and more!  You will find your days filled with adventure!
Whether looking for a challenging adventure or quiet relaxation among the sights and sounds of the incredible Amazon Rainforest, we are dedicated to ensuring that you have an unforgettable experience.
Rainforest Hikes – Daily hikes into the rainforest provide opportunities to see a variety of animals, insects, butterflies, reptiles, flowers, giant trees and vines and the many medicinal plants found in the jungle.
Birdwatching – There are many opportunities for birdwatching, in a dugout canoe in the early morning, on jungle hikes and along the Amazon River. You could see Herons, Caracaras, Raptors, Tanagers, Flycatchers, Red-headed Cardinals, Woodpeckers, Trogons, Tit-tyrants, Yellow-headed Blackbirds and Oropendolas, to name just a few of the many, many bird species.  Many birds can be seen from the Hammock Room Veranda without  leaving the Lodge.
Night Excursions – Many of our rainforest animals are nocturnal and on our night hikes guests have seen tarantulas, insects, boas, bats, owls, frogs and more. We cannot guarantee that you will see specific animals, but our capable guides will do their best to show you the wildlife.  We also offer camping!
Canoeing – Paddling the Rio Tapira offers opportunities to see sloth, iguana, a variety of birds and many lovely sights.
Caiman Spotting – Paddling the Rio Tapira after dark allows the possibility to spot young caiman, their eyes glowing bright from the reflected flashlight beams.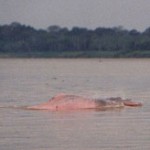 Pink and Gray River Dolphins – Cruise the Amazon River to search  for the infamous mythical Boto, better known as the Pink Dolphin.
Piranha Fishing – Fishing Fish for Piranha in the Rio Tapira, the Amazon River, or in a remote oxbow lake and bring back your catch to be prepared for lunch or dinner!
Giant Lily Pads (Victoria Amazonica) – Travel to a remote oxbow lake to see the beautiful, impressive giant lily pads that grow to enormous proportions and can actually support a small child.
Amazon Community – Enjoy a visit to one of the local Amazon jungle communities.  You will find it to be a rewarding experience that allows guests to get to know the local people and learn about their culture and daily life in the Amazon rainforest.